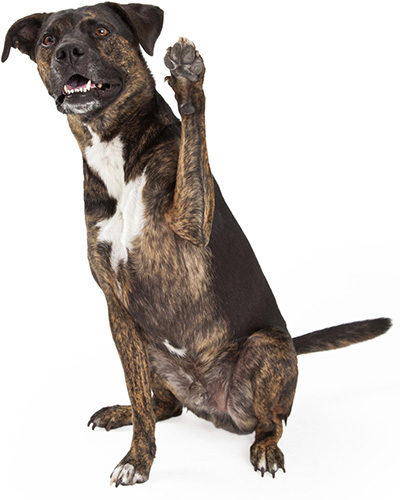 Frequently Asked Questions
Does my dog have to be up to date on his vaccinations?
Yes, you will need to provide a copy of your pet's rabies and vaccinations, along with your veterinarian's name and phone number. This is protection for your pet.
How often should I get my pet groomed?
On the average, dogs should be groomed every four to six weeks. Of course, this depends on the owner's ability to do daily brush outs. It also depends on your pet's breed, coat and how often your dog is outside. You may want your dog to be groomed on a tighter schedule to keep their cuts crisp. Since I only have one mobile van, you should try to "lock in" a recurring appointment to prevent being closed out when I am no longer able to accept new clients.
Does frequent bathing harm my pet's coat?
No, veterinarians will encourage you to have your pet groomed on a regular basis. I use high quality shampoos and conditioners to help relieve dry, itchy skin. I use a variety of shampoos such as medicated, tearless, whitening, and hypoallergenic, just to name a few.
My dog sheds all the time, any help for that?
Yes, I can de-shed the coat during and after bathing which reduces shedding.
My dog is really, really matted, what can you do for him?
I offer a relaxing, pain free, grooming experience for your pet. If your pet is severely matted, I will be able to offer you a "shave down" using my longest length blade that will penetrate the mats. If this is not acceptable to you, you may want to comb out the mats, with particular attention to the stomach, underarms and behind ears, before I arrive. Just remember, it is more humane to cut down the coat and start all over again than to de-mat a heavily matted coat. Also, decreasing the time between appointments and/or settling for a different coat style should be discussed at this time.
What type of products do you use on my pet?
In an attempt to give my clients the best service, I use only premium shampoos and conditioners that are designed specifically for pets. However, if you prefer that I use your pet shampoo, just provide me with it.
How do you know your exact arrival time?
I will give you an open window of 30 minutes for arrival time. If I know that I will not be able to arrive within that window, I will call you. Please make sure you take your dog out to potty before I arrive.
Do I have to be home for you to groom my pet?
For the first or second time, yes. When both your pet and I feel comfortable with each other, we can make arrangements for grooming to be done without your presence.
What if the client needs to cancel their pet's appointment?
No problem, as long as you notify me 24 hours in advance of your appointment, (so that I can fill this time slot with another client's pet). If it is less than 24 hours, call me on my cell phone (847-347-7734) thus saving me from driving to your residence. If you do not call to cancel your appointment, a $50.00 cancellation fee will be assessed, which must be paid prior to your next appointment.
What happens when Barking Style needs to cancel an appointment?
On rare occasions, I may need to cancel an appointment due to weather conditions, road conditions, equipment or van breakdowns or personal/family illness. I will make every effort to contact you in advance to reschedule your appointment.
What about No Shows?
If you are not home when I arrive for your scheduled and confirmed appointment, you will be assessed a $50.00 No-Show Fee per pet.
What type of payments do you accept?
All grooming fees must be paid at the time of service by cash, check or charge. A $25.00 fee for returned checks will be charged and must be paid before another appointment is made. At that time, I will go to a cash only basis.
Is mobile grooming more expensive than shop grooming?
Yes, usually around $20-30 more per pet. For that extra money, you get the convenience of not making 2 trips to your local grooming shop and having to wait approximately 4-5 hours in between drop-off and pick-up time. Your pet will also benefit from a less stressful environment with no barking dogs, no cages, no wait time, with only me grooming your pet each and every time.
Do you need to plug into my electric outlet or use my water?
No, my van is a completely self-contained unit. I have both warm fresh water and grey water tanks on board. I will never empty my grey water on your property. I have an inverter/generator that provides for all of my electrical needs. The unit is warm in the winter, and cool in the summer.
Do you have evening or weekend appointments? What about an emergency appointment?
I can schedule off-hour appointments if the situation requires it. There is an extra charge of $70.00 per pet for this accommodation.